Whatever happened to the good old days when you could find a smashed cassette tape on the road, take it home, re-load it into a new shell, and then play it to see what was on it? It seems like only yesterday when I did that with a copy of
Aerosmith's Classics Live
.
Unfortunately, those days seem to be long gone. Now we've got CD-Rs. If they've been run over by too many cars, the content is completely gone. However, you occasionally get lucky...
It's not really the content that makes me pick one of these things up, but rather how the disc is jazzed up in some way by the person who burned it. Here's a few I've found:
Spice Girls Greatest Hits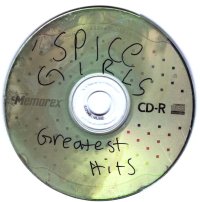 Ah, the Spice Girls. How I remember you from my late high school days. How I hated hearing that dumbass in my class tell me that the Spice Girls were better than Blue Oyster Cult, simply because they had bigger tits. At least the 'Agents of Fortune' album is more timeless than EVERYTHING the Spice Girls did.
I'm not sure if this is a copy of an existing compilation, or something someone threw together. It doesn't play at all.
The Gumshoe Strut & Co.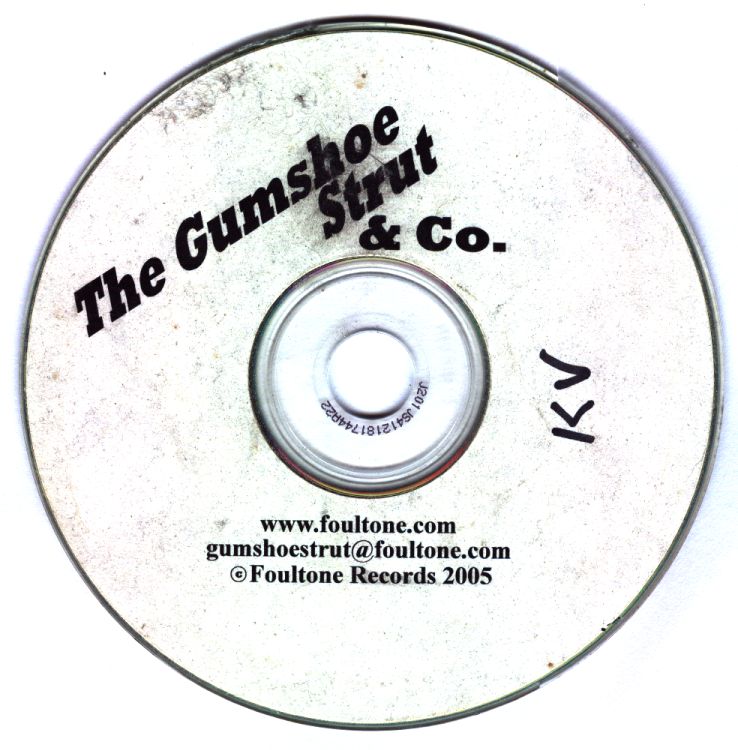 Straight outta the North side of Winnipeg, these guys seem to have landed themselves on a small record label. This entire disc is playable, probably because I found it in a snowbank in the middle of Winter. I generally find hip hop boring, but the third track actually made me laugh.
Listen to it here!
Hip-Hop #1 Dance Class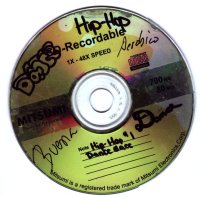 Alas, more hip hop! I think it's funny that the word "Aerobics" is written on this CD-R. I personally would find it more preferable to bob my head and smoke weed to this music, rather than do jumping jacks.
Most of it is somewhat playable. Thanks to Google, here's the track listing I descrambled from the lyrics:
J-Diggs - Push It Up
Busta Rhymes - Make It Clap
Amerie - Touch
R Kelly - Burn It Up
Chris Brown - Gimme That
Chris Brown - Run It
J-Kwon - Get XXX'd
Jhene - No Love
Mr. Vegas - Tamale
??? (can't understand the fucking lyrics)
R Kelly - Slow Wind
Ricky Martin - I Don't Care
Sean Paul - Temperature
Teairra Mari - No Daddy
T-Pain - I'm Sprung
Twista - Hit The Floor
Ying Yang Twins - Shake
(last two songs won't play)
What a bunch of crap. I haven't enjoyed this music since Snoop Doggy Dogg's first album altered the state of rap music forever.
To Alex, Love Julia!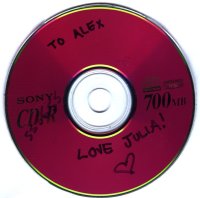 I guess Alex didn't love Julia since he tossed this fucker out his car window. It's really a shame that it doesn't play since it's the one that shows the most promise musically. The only song that plays is the first one: Don't Walk Away Eileen by Sam Roberts.
These things are such fun to collect. It's like finding a small chunk of someone's life, tossed out into the street as if this part of their life wasn't worth holding onto.
Then there's me - I keep all my mix tapes and CDs.