Welcome to the first post of 2012! We're going to start off the year on a happy note. I'm reviewing albums by happy couples who have been together for years.
...Now that the happy note is over, here's the sad note... Three out of four of these albums contain country music. Three out of four of these albums are Christian music. Yes, we're starting the new year off with a bang... a bang of four shitty albums hitting the bottom of the garbage can. I felt the need to wash my ears out with a Big Star album after hearing these four dreadful clumps of shit.
Hank & Anne - Pathways of Time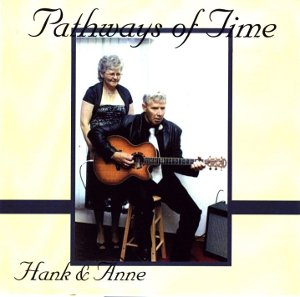 The first song on this album, "Jesus Help Me Walk" actually gave me some hope for this one. Not only does Hank have a cool voice, but the song is about going out, asking Jesus to play with his balls, and then asking for help walking home because he got too drunk. Well, that's the message I got from it anyway. The only time I usually pray to Jesus is when I get piss drunk and I'm heaving above a porcelain shit-disposer. Perhaps I should write a song called "Jesus help me puke"
Anyway, after such a great song, Hank's wife takes control of the album and ruins it with more sensible worship songs. Not only that, her voice sucks. To put a final gold star of failure on the album, the backing band is full of arthritis and alzheimers and can't seem to stick together while playing.
Download "Jesus Help Me Walk"
Kevin & Marg Harcourt - Two Part Country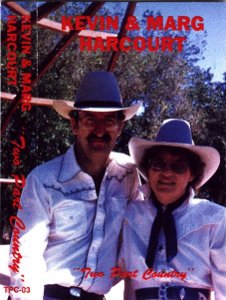 Yes! Weird Kevin Harcourt is back on Classical Gas Emissions! You can find my review of another one of his albums
here
. According to the inlay card, Weird Kevin put out a total of six album. Why??? He didn't need to!!! One was sufficient!!!
The amusing part about this album is the last song. It's repeated twice, but the second one is an answer song. Kevin sings the Waylon Jennings hit "Put Another Log On The Fire, Bitch" and Marg follows it up with a parody called "Put Your Own Goddam Log On The Motherfucking Fire, You Cocksucking Prick". This album is amusing for the sole reason that Kevin still looks like Weird Al, and Marg sounds like a nasal clog.
Download "Put Your Own Log On The Fire"
Bert & Liz Genaille - It's Different Now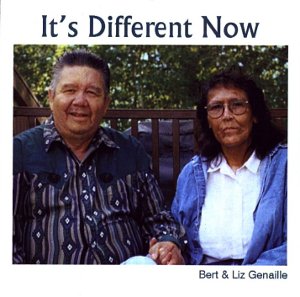 Bert and Liz bring you their newest album called "It's Different Now" to follow up their last three efforts which were all titled "Same Shit As Before". This album is full of acoustic songs about Jesus saving their ass along with songs about Jesus doing other stuff.
Look at the cover. Even though they're both homely as hell, they look very in love. Well, Bert does at least. Liz doesn't look too happy, but that might be because she's too ugly to look happy. Regardless, They managed to crank out this boring album which I regretfully wasted my money on.
There seems to be a common thread with Christian albums I find. Many of them have Christian parodies of Folsom Prison Blues on them, and this one is no different. If you hate Johnny Cash and love Jesus, then you'll enjoy the fuck out of "Jesus Signed My Pardon".
Download it here!
Don and Immie - He Put The Song In My Heart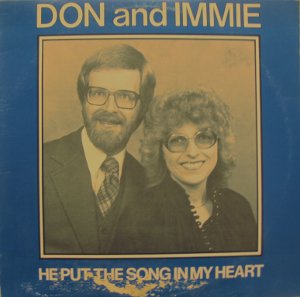 You can tell I bought this album solely because of the two mutants on the cover. Personally, I think the title "He Stuck The Song Up My Ass" would have been a better title for this album. Look at Don. It looks like someone stuck SOMETHING up his ass. Poor Immie is just an unfortunate accident from her mother drinking too much of Jesus' blood while pregnant.
I honestly thought that Don would be singing "Doink Doink JESUS!!! Doink Doink JESUS!!" or something equally as simplistic, but I'm afraid it's much worse. Not only does Don sing stupid songs, he sounds a LOT like Terry on that
last video I posted
. The song I'm offering has Don declaring his love to Jesus. After Don was finished singing this one, he needed to go touch the little piece of heaven between his legs and squonk one out. This song is AWFUL.
Download "The Lord of my Life"
Most of you are probably wondering if there's ANY Christian-themed songs that I actually like. Of course! Here's a list to prove it:
Spirit in the Sky - Norman Greenbaum
Jesus Christ - Big Star
My Sweet Lord - George Harrison
Pray - M.C. Hammer
Jesus Is Just Alright - Doobie Brothers
Heaven - Talking Heads
Hallowed Be Thy Name - Iron Maiden
Only God Knows Why - Kid Rock
Livin' On A Prayer - Bon Jovi
Angel In My Heart - Britny Fox
Jehovah - Saigon Kick
Houses of the Holy - Led Zeppelin
Practice What You Preach - Testament
Judgment Day - Whitesnake
Thank God For The Bomb - Ozzy Osbourne
Thank God I'm A Country Boy - John Denver
Metal Gods - Judas Priest
Hard Rock Hallelujah - Lordi
Goddam Devil - Ugly Kid Joe
Jesus Built My Hotrod - Ministry
There Is No God - Extreme
He's Kissing Christian - That Dog
And now you can't call me a Satan worshipper. So go download all those songs and light will shine from your computer monitor while you do it.