This is my official attempt to create a discography... well, maybe a tape-ography of the releases created by a shit hole company named "Sound alike Music". They also seem to have gone under the name "Delmar" so who knows what they were really called.
Each one of these 8-tracks is a tribute album of a specific artist done by some fly-by-night band that never made it anywhere in the music industry (possibly because some of them REALLY sucked).
There's a lot of problems with these 8-tracks. Without even getting to the music that's contained on them, the biggest problem I had with these is they all play very unreliably in my machine. The tape garbles in the same exact spots every time I play them. This leads me to believe that Sound Alike used the absolute cheapest bottom-of-the-barrel tape to fill these cartridges. While refurbishing these for reliable playback, I tried everything in my power to make these tapes play properly, but I had to accept the fact that these tapes just don't fucking work right. If I play an 8-track released by a major label, it plays for hours without sounding like it's having an emotional breakdown, so the problem certainly isn't my player.
I've been collecting these 8-tracks for a while, and I'll likely find more (and post them here for your listening pleasure). If there's one positive thing I can say about them, it's that the person who painted the album covers did a really nice job.
I've left the spelling errors intact just because spelling errors are unintentional comedy that I don't have to write myself. Some of the songs are split up between two programs and I couldn't be bothered to patch them together, so don't be surprised if a song suddenly gets interrupted by a cue tone, a clunk, another cue tone, and then continues to play as if it was just your imagination playing a prank on you. That's just the way the 8-track format worked.
I've put the entire albums up for downloading, just because there something here for everyone to loathe. If you don't want all this garbage cluttering up your iPod, I've selected one special song from each for your sampling pleasure.
Songs Made Famous By Led Zeppelin
Performed by The Chancellors
#3018
Download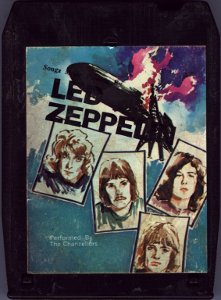 01) Dy'er Maker
02) Whole Lot Of Love
03)
The Ocean
04) Black Dog
05) Dancing Days
06) Stairway To Heaven
I don't know who The Chancellors are, but they shouldn't be covering Led Zeppelin songs. These ones are pretty bad. The singer isn't very good, and the guitar player is an insult to Jimmy Page. Whoever mixed this doesn't know what a volume control looks like, so everything's all fucked up when it comes to the right parts being loud enough. But believe it or not, this isn't the worst Zeppelin tribute album I own.
A Tribute To Linda Rondstadt
#3028
Download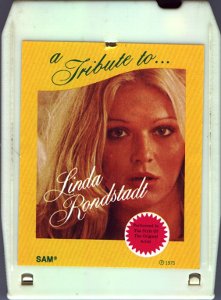 01) You're No Good
02) Rescue Me
03) Long, Long Time
04) Leavin' It All Up To You
05) I'll Be Your Baby Tonight
06)
Different Drums
07) Rock Me On The Water
08) I Can't Help It If I'm Still In Love With You
I don't think this sounds like Linda Ronstadt, but the songs aren't performed all that badly. Linda Ronstadt never had much of a knack for writing her own shit, so this is likely a cover album of covers. Therefore, I'm going to give this band credit because it's pretty hard to fuck up a song that someone else already fucked up.
Rick Michaels Sings
The Best Of Englebert Humperdinck
#5001
Download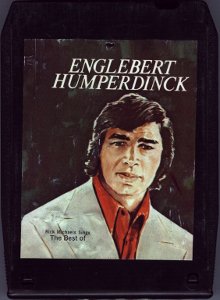 01) Domage Domage
02) Release Me
03) There Goes My Everything
04) The Last Waltz
05) Am I That Easy To Forget
06)
A Man Without Love
07) I'm A Better Man
08) Les Bicyclettes De Belsize
09) The Way It Used To Be
10) Winter World of Love
If this guy was singing songs by Engelbert instead of Englebert, then I'd say he sounds a lot like him! Rick has a little extra vibrato in his voice due to this tape playing like it has Parkinson's Disease.
Here's a copy with an alternate cover.
Phil Shields Sings
The Best of Tom Jones
#9105
Download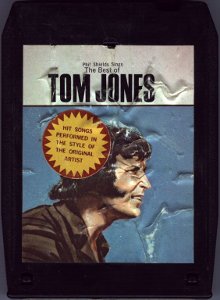 01) I'll Never Fall In Love Again
02) Help Yourself
03) A Minute Of Your Time
04) Without Love
05) Daughter of Darkness
06) Young New Mexican Puppeteer
07)
It's Not Unusual
08) Detroit City
09) Green Green Grass of Home
10) Delilah
Phil does a good job recreating the sound and power that Tom Jones has. If I didn't know better, I'd say this is a live Tom Jones album.
Ladd Hooker Sings
The Best of Elton John
#9128
Download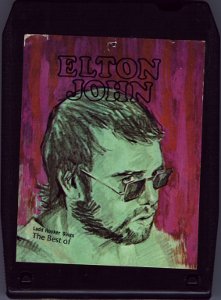 01) Bennie and the Jets
02) Your Song
03) Saturday Night's Alright for Fighting
04) Goodbye Yellow Brick Road
05) Honky Cat
06) Daniel
07)
Crocodile Rock
Why the fuck did this guy have to do Bennie and the Jets? In my opinion, it's the WORST song Elton John ever did. On the subject of this recording, it's passable. It's not awful nor is it crap. There's just nothing fantastic about it except for the terrible recording job on "Saturday Night".
According to a search on the internet, a second volume was also released.
A Salute to Jerry Lee Lewis
Done by Various Artists
(Between 9128-9138 - Part of the label is ripped off on my copy)
Download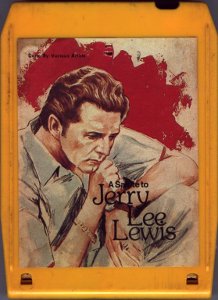 01) Hound Dog
02) Johnny B. Goode
03) Slippin' and Sliding
04) Kansas City
05) Good Golly Miss Molly
06) Long Tall Sally
07)
Great Balls of Fire
08) Whole Lotta Shakin' Going On
09) What'd I Say
Another really boring one to listen to. Was Jerry Lee really so untalented that he had to cover everyone else's stuff? It could be anybody playing these songs, so why is it specific to him? I really don't know.
Cabbage Sings
The Best of Grand Funk
#9138
Download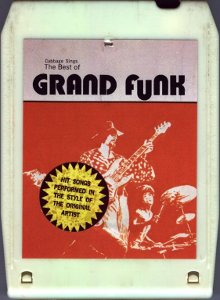 01) The Loco Motion
02) Walk Like a Man
03) Rock N' Roll Soul
04) Upsetter
05)
We're An American Band
06) Footstompin' Music
07) Closer To Home
Cabbage makes me fart. An 8-track of someone eating cabbage and then farting would showcase more talent than these guys. This 8-track was also released in quadraphonic. If anybody has a copy that they're willing to part with, I'll have no problem putting it up so everyone can hear shitty Grand Funk covers in four discreet channels of surround sound-ish goodness! I've got a quad player just waiting to bring some realistic displeasure to your ears.
Songs Made Famous by Alice Cooper
Performed by Zachary Meadows
#9206
Download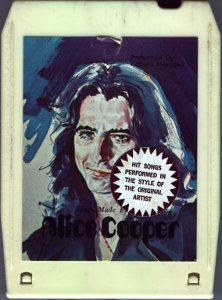 01) Only Woman Bleed
02) Elected
03)
No More Nice Guy
04) I'm Eighteen
05) Welcome To My Nightmare
06) Muscle of Love
07) Billion Dollar Babies
08) School's Out
Zack faithfully duplicates Alice Cooper hits such as "Only Woman Bleed" and "No More Nice Guy". The band is tight, the covers are pretty faithful, and Zack should've taken his talent somewhere else instead of serving the idiots at SAM Studios (which according to the Elton John tape is located in both Los Angeles, California and London, England!)
I found a couple of mentions of this oddball record label on the internet. They made TONS of these 8-tracks.
Here is a link
to a site called the 8-track Shack who has a number of these up for sale. There's lots of Quadraphonic versions of these, but there's no way in hell I'm paying $35-$50 for one lousy tape.
Here's a tripod site
called "The 8 Track Landfill" which briefly mentions a couple of these treasures.
Hopefully more will make it here in the near future!