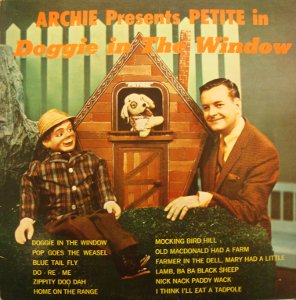 Yes! Another Uncle Bob record! Before I get to this album review, I figured I'd mention that three of the dummies that Uncle Bob did the voices for have apparently been
put on display at the Manitoba Museum
. Today was freebie day for members of a certain union (which I happen to belong to), so I figured I'd go and get a nice picture of them for this entry.
The Manitoba Museum is full of dead animals and Indian arrowheads. Very little has changed in the last 25 years since I've been to the museum, but they've certainly improved the security. When I got closer to an old piano to have a better look at it, an alarm started screaming like a pig having a cheese grater shoved up it's ass.
Just when I thought I was getting close to seeing my beloved creepy wooden dummies, I was greeted by more fucking dead animals. Yet again when I felt so close to seeing the puppets that I swore I heard Archie Wood giving a safety tip, I was bombarded by yet more goddam Indian arrowheads.
There's very little for me to see and enjoy at the Manitoba Museum, and I'm very thankful that I found free parking and didn't have to pay any money for the disappointment. Unfortunately, I wasted an hour of my life plowing through the boring displays of things I don't care about. Fuck the Museum.
Now then, lets get back to the album. I found it at an estate sale last weekend and it's in pretty damn good shape for how old it is and for it being a children's album. For those who are in the dark, Uncle Bob, Archie Wood, and Petite the Dog were on local television for a good 20 years entertaining children (including myself). I've previously reviewed the
Funtown album
and the
Christmas album
.
I'm pretty sure that this is the first album that Uncle Bob released. It took a total of four people to produce this album: one to play the organ, one to record the audio, one to take the cover picture, and one to voice the characters. That exactly how an album should be released! There's virtually nothing on the sleeve nor the label on what record company actually released this with the exception of it being distributed by Clay-Mor Sales.
Anyway, Uncle Bob generously graces us with more sped-up records to simulate Petite's supposed high pitched squeaky voice. You get to hear "Doggie In The Window" and "I Think I'll Eat A Tadpole" played on the wrong speed. All the other songs on the album are played on the granny organ and sung by Uncle Bob in his multi-talented voice along with his goofy sense of humor.
The track I chose off this album is the extremely terrible but funny rendition of "Home On The Range". The gloomy sound of the organ makes it sound like the deer and the antelope are all dead.
Listen to Home On The Range!