Welcome to 2014! I'm going to be renewing web hosting for classicalgasemissions.com yet again. Hooray for longevity!
Since the new year always brings out the empty promises of those who want to change something about themselves, I'm going to help all of you keep those empty promises. If you're a fat fuck or an evil, dirty smoker, I have good news for you...
Reveen - Stop Smoking and Overeating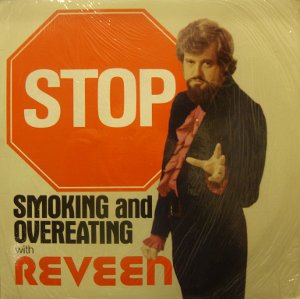 It's the official record of New Years Day! Reveen passed away earlier in 2013 from diabetes and dementia. After listening to this record, I truly believe that Reveen had dementia from birth. His voice is laughably annoying on this record. He sounds like a cheap imitation Hutterite who believes he's a messenger from God.
Half of the record is spent putting the listener into a trance. If the power happens to go out or the record starts skipping while you're in the trance, you're extremely fucked. You will spend your life in a trance, pissing your pants and starving your way into the grave while waiting for Reveen to bring you back to your normal state.
I searched the internet for people who successfully quit smoking from this album, but came up empty. That doesn't mean you can't be the first one though! You can still buy this album at reveen.com. To eliminate the risk of putting my readers into a trance and taking my words from this blog as self-improvement (wouldn't that be a disaster), I cut out the part that puts you in the trance and just left the meat. I'm pretty sure the trance inducement part is the same on each side anyway.
Listen to Reveen's Stop Smoking Message
Listen to Reveen's Stop Overeating Message
Joseph Lampl - The Record Way to Stop Smoking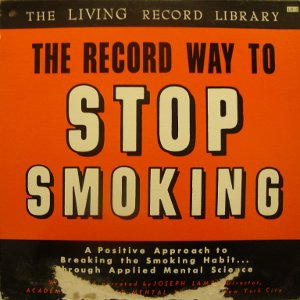 The back of the record says "A record player can do more than play music". Of course it can! You can put your hamster on it, set it at 78 RPM, and make him puke.
The first thing I noticed when I listened to this record is the first part was sampled in the
Tony! Toni! Tone! song "Feels Good"
from 1990. If I were to use this record to try and quit smoking, I would fail to concentrate because I'm waiting for the cool funk of a washed-up R&B group to hit my ears and make me happy.
Side one of this record doesn't put you in a trance. It's just full of positive reinforcement. After you're done listening, feel free to have a cigarette to celebrate your conclusion to this healthy meal of knowledge.
Side two puts you in a trance, and this guy's voice won't make you burst out laughing like Reveen's does. However, this guy spends pretty much no time nor effort on the trance. He just kinda tells you to feel relaxed for two minutes, and then just says the same things that Reveen does.
So, I've decided to bring you Side One. It seriously sounds like something you'd hear at a cult meeting.
Listen to Side One
Now that I've given you the tools, I expect all of you to become skinny ex-smokers by the end of 2014. If you don't, then I expect you to read this blog entry over and over until you do.