Since Canada Day is July 1st, I decided to pick through my blog queue and find some records to represent our Country! Yes, it was a doomed venture from the beginning because it seems that every song representing Canada seems to be sub-par (and that includes our national anthem). We just can't seem to write cool songs about our homeland which is quite evident in two of the four records I'm featuring here.
So won't you join me as we step into the home and native land of shitty patriotic songs, boring Canadian history, and airport music.
The Mennonite Children's Choir - They All Call It Canada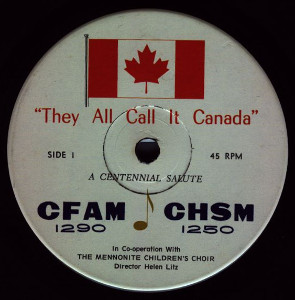 I'm glad this is not our national anthem. It's too long and I can't understand half the words, mainly because the children singing on here were taught to over-exaggerate their Canadian accents. Hooray for CannyDaah!
It's still a shitty song, so I'll forgive you for skipping over it.
Listen to They All Call It Canada
Sounds of Canada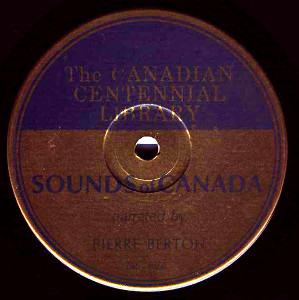 Canadian history is boring as fuck, and this record helps drive that point home. Fortunately for us, this isn't just a record documenting Canadian history. It's a record of Canadian sound effects and audio clips.
Although I haven't been to our city's library in decades, the tapes, records and videos I've come across that previously belonged to the library are lame, stupid, or just flat out dumpster food. I'm not sure what the purpose of this record was. Perhaps you were supposed to buy it, mail it to someone in a different country, and they would excitedly opened the envelope to discover a totally destroyed 7" record because the postal system likes to smash the piss out of the mail before it arrives to its destination.
I've joined side one and two into a single 17 minute MP3 file. It's kinda stale, but if you want to know what Canadian atmosphere sounds like, this may help deter you from visiting us.
Listen to Sounds of Canada
T.B.A. - Summer In Canada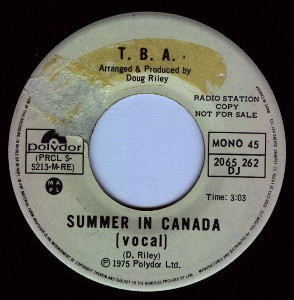 If you can't figure out what to name your band, just stamp it with "T.B.A." Seriously, how can
Doug Riley
write and compose a completely useless song, and then avoid coming up with a band name? The poor singers will never get the recognition they deserve. What a way to ruin a legacy. I'm also pretty sure I have a cassette of Doug Riley somewhere in my massive, overflowing box of bloggable cassettes, but I cannot seem to find it at this very moment.
I don't think this song was meant to be an enjoyable patriotic song. It sounds more like a radio station bumper to fill dead space while the disc jockey (who's a total slacker at his job) queued up the next record. So for all you slackers in the Canadian broadcasting field, feel free to use this song to stab summery joy into the ears of your listeners!
Listen to Summer In Canada
Flight Time - An Air Canada Introduction to Boarding Music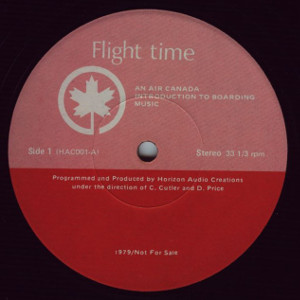 In the few times I've flown, I've NEVER paid attention to the fact that there's music playing while I'm getting on the plane. Nevertheless, this is a fun sampler of music that was playing in Canadian airports in 1979. You're not going to find any Led Zeppelin, Black Sabbath, or Deep Purple here. Satanic bands like those are NOT allowed on the airport speakers. Instead, we have a selection of (mostly) soft 70s pop music that will ensure you remain calm while airport security rapes and cavity searches you for guns, knives, cocaine, and cigarette lighters.
This is basically elevator music performed by a bunch of unknowns. Here are some of the songs I was able to pick out while listening to this record (with a few being heavily disco-fied)...
Day Tripper
Ben
Theme from a Summer Place
Music Box Dancer (the actual Frank Mills version)
Tie A Yellow Ribbon Round The Old Oak Tree
Raindrops Keep Falling On My Head
Seasons In The Sun
The Entertainer
Nadia's Theme
I Just Can't Help Believing
Georgy Girl
Nobody Does It Better
Suicide Is Painless
Personally, I would probably be more nervous during my flight after hearing the Theme from MASH while boarding the plane. The fear-induced scars of wondering "IS THIS PLANE GOING TO GET SHOT DOWN" would pave the way for a lifetime of intense therapy.
Both sides have different music, and side two has the commentary in French.
Listen to Side 1
Listen to Side 2
And that's it! I hope you have a spectacular Canada Day, regardless of what country you live in.