So you think you're doing great with your Etsy store? Well, let's look at how awesome these other guys did in comparison to you!
Nygard Celebration 50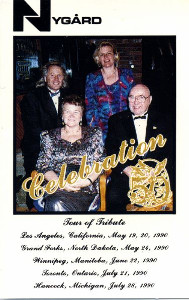 This year, Peter Nygard is celebrating 50 years of making old lady clothing. In honour of the old bastard, here's a cassette entitled "Nygard Celebration 50". In other words, Nygard was celebrating the number 50 about 30 years ago.
According to the tiny blurb of text on the cassette inlay, this cassette was some sort of gift at a tour that Nygard went on to celebrate his parents' 50th wedding anniversary. My guess is they're both dead by now.
As a side note, 10 years ago I damn near ended up getting a job at the Nygard company hooking up A/V equipment. I had two interviews with them, and then they hired someone else. I'm probably better off for it, because the two guys interviewing me warned me (in the nicest way possible) that Peter Nygard is a fucking asshole. One of the perks of the job was an all-expenses paid trip to Peter's private island in the Bahamas where I would be hooking up A/V equipment for the yearly fashion show and also be berated by the mean old twonk. Such a missed opportunity...
So what's on the tape? When I bought it, I didn't really have a clue because there's no explanation other than it being "songs that made the memories" and "the soundtrack from the Toronto and Hancock fashion shows". It turned out to be an assortment of songs from about 1990 and earlier. Other than the assorted pieces of classical music and instrumentals, here are the songs I was able to identify:
- Bette Midler's "Wind Beneath My Wings"
- K-Tel's Hooked On Classics
- Nothing Compares 2 U - Sinead O'Connor
- MacArthur Park - Richard Harris
- Buster Poindexter's shitty "Hot Hot Hot" rendition
- Bette Midler's Wind Beneath My Wings AGAIN!!!
- That's What Friends Are For - Dionne Warwick and her buddies
- My Cup Runneth Over - Ed Ames
- Endless Love by two people who like shitty songs
- Goldfinger! By Shirley Bassey! Why the fuck is this on here???
- More (Theme from Mondo Cane) - No clue what version this is, but it's really good
The best part about this tape is the sound quality... If you put an AM radio in a bathroom, you pretty much have the same effect. I haven't included anything from this tape, so let's move on...
President's Month 1968 Record Making Competition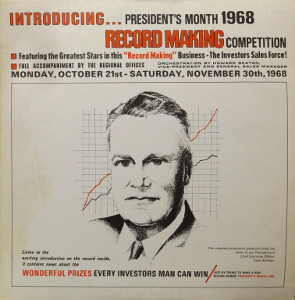 This is a strange one. I have scoured the album for the name of the company who held this "record making competition" and I've come up empty. All I can gather is that it's a company that does financial investments for people. In other words, it's a pretty damn shady company! I tried googling the president's name and came up empty.
So yeah, it's a few guys who are higher-ups in the company telling the "sales" men to get out there and get clients. A sheet of prizes is included with the record, and there's some pretty cool shit on there!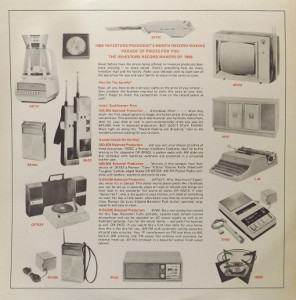 If you think listening to side one leaves you with a sense of con-artistry, side 2 will seal it for you. There is a spiralling groove (possibly two of them) that move from the center of the record to the outside. When your stylus reaches the outer edge of the record, it gets tossed off the platter and catapulted into the next millennium, leaving you with no way to play your records.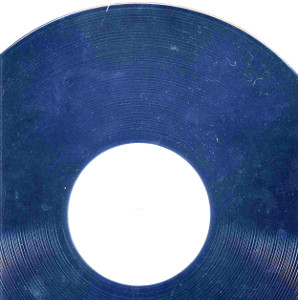 Oh yeah, and the groove is blank. There's absolutely nothing on it.
And another thing... The label on side one is plastered over another label.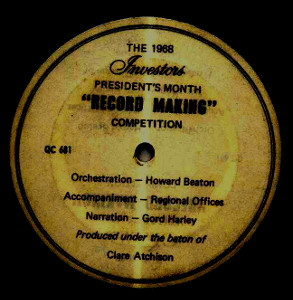 Shady as hell if you ask me!
Listen to Side One
Sound Selling by Radio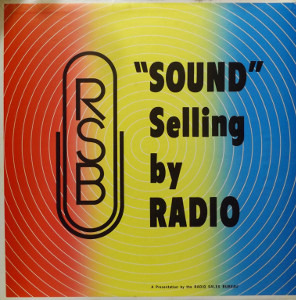 This is the fun one! It apparently came from the "Radio Sales Bureau" and dates to about 1965-1966. It's basically a promotion for advertising on radio. It sounds boring on the surface, but they've included some really old Canadian radio commercials. Here's some of the things you will learn:
- You should buy a 1965 Peugeot, a '65 Rambler, and a '65 Meteor as your next vehicle!
- Find out what a "Toyota" is (hint: it's a vehicle!)
- Drink Freshie (which was a Canadian Kool-Aid equivalent)
- You can get cheap nylons from the Simpsons Sears catalog
- More Canadians enjoy Rothmans cigarettes!
- Use Flush-a-Bye diapers (pronounced die-a-per) that you flush down the toilet!
- Roy Brownlee Your Pharmacist recommends using Waterlily Cleansing Cream
- Rent an air conditioner for only 98 cents per day!
As a side note, my mother still calls Kool-Aid "Freshie". I also have some cigarette promotion stuff that I want to cover in the future, so watch for that. Anyway, here's some clips, and the whole album:
Listen to Side 1
Listen to Side 2
Clement's Farm Equipment
Flush-a-Byes Diapers
Rothmans Cigarettes
Toyota
That's it for this round! As a side note (with regards to the Nygard album, other people's mix tapes, and other strange compilations), I was thinking about setting up an invite-only Facebook page to put up stuff like that. A minimum $5 donation to patreon or paypal would get you lifetime access to this more commercial stuff that people have compiled. I'd be putting up entire cassettes, 8-tracks, Minidiscs, and whatever else I come across that contains more mainstream material. Putting entire albums online can be time-consuming, but if any of you are interested in something like that, I'll do it. There's lots of stuff kicking around here!