The junk I find at Portage La Prairie's thrift store usually rivals the stuff from Neepawa. If I were to pick a winner for worst albums, I'd be hard pressed to choose between the two. So here's what I found this year at Portage...
Paul Fauerso - Fantom Music
When I moved into my first apartment, my girlfriend begged me to buy a Fantom Lightning vacuum cleaner. She told me that if she got one, she would vacuum naked for me. So I dropped $399 on the vacuum cleaner, hoping I was in for a treat. Instead, I was the one who used the damn thing regularly while she sat on the couch, fully dressed, eating Cheetos. What a fucking rip off.
Anyway, I have no clue where the hell this CD came from because I sure as hell didn't get one with my vacuum cleaner. To be honest, I kinda like this CD! I enjoy instrumental music, and this is very campy music released just before Y2K hit us. My guess is this was used for the infomercials that were airing repeatedly, bragging about how awesome this bagless vacuum cleaner was. I think bag vacuums are extinct now, so I guess this was pretty revolutionary.
On this album, you get hits such as "Fantom Lightning Theme", Fantom Cyclone XT Theme, Hip Hepa, and Fantom Theme Revisited. Since the songs are short, I've included a few of them. Feel free to download them and vacuum your house while playing them on repeat. Who knew an entire album of vacuuming music could be so damn good?
Listen to Fantom Fury Spot '99
Aaron Burnett - Canadian Critters
Look who it is! It's Mr. Environment himself! His album was sealed in non-biodegradable cellophane. Naughty, naughty! I should bury the CD itself and see if it's biodegradable. We had fun listening to his preachy "save the Earth" children's music during last year's Junq Tour. The cover for his environment album featured him about to get eaten by a polar bear. This year, he's about to get eaten by a brown bear. Why does he keep escaping death? What the fuck is wrong with these animals? Don't they know how tasty humans are? He probably kills them with his guitar that sounds like a banjo.
Anyway, Aaron's singing about owls, trash pandas, mosquitoes, and other annoying animals. We had both an owl and a raccoon break into our chicken coop last year and commit mass murder, so fuck these animals. I also had a bear in my tree who left big annoying piles of shit on my lawn. This album paints these animals in a positive light when they shouldn't be. When you live in the country, you develop a much different opinion about wildlife and the environment. One thing I can say is this is better than the environment album as it has less fiction and more facts. Aaron is most certainly aiming for "educate children while they listen to Canadian redneck music" genre.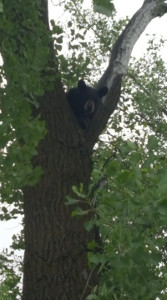 Listen to Wapiti the Pumpkin Elk
Get the Net! - 14 Fishin' Greats
If you wanted a great album consisting of nothing but fishing songs, you'll have to record one yourself because this isn't great. The original owner probably thought the same since this turd was still sealed when I found it. Between the Mad magazine style artwork and the novelty lyrics, this album tries way too hard to be funny. Maybe it's just me (because I don't fish), but this album just makes me groan. It's also completely made up of country music which sucks at the best of times. I honestly don't know how anybody could write an entire album of fishing songs, but then again there's country artists who can write entire albums about drinking beer. Talented songwriting seems to be lacking in the whole genre.
Personally, I think the album of roadkill songs I reviewed was better.
Listen to Nessie (Sixteen Tons parody)
Vic High Rhythm & Blues Band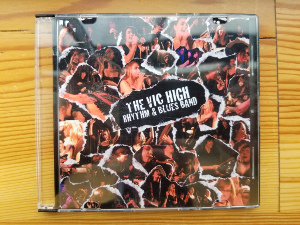 For a recording of high school students, the quality and the talent is certainly there. I have to admit that the cover of The Jackson Five's "I Want You Back" on this disc is very good. However, their cover of "The Letter" by The Box Tops is absolutely awful. I understand that people like to re-invent songs to make it "theirs", but this song belongs to Alex Chilton, and I have no respect for anyone who turns his grave into a washing machine on spin cycle.
Their cover of Labelle's "Lady Marmalade" sounds like "Abracadabra" by Steve Miller, and I probably would have been happier if that's actually what they recorded. Covers of "Dancing in the Street" by Martha & The Vandellas, "Higher Ground" by Stevie Wonder, and "Listen to the Music" by The Doobie Brothers are all very mediocre.
All I can say is I hope these guys all graduated and wrote their own music so I can find it in the wild and write about it on this blog.
Quite Likely - Caught in a jam
This one was sealed too!
Personally, I'm having trouble figuring out what is wrong with this CD. One obvious problem is the dude's voice. It doesn't work with the music that they're playing. He should be doing some Jackyl covers or something. Instead, he's plunking away on his ukelele, singing depressing songs. All the songs are kinda campy and country-ish. It really had potential to be good, but it's kinda not.
Peter Webb - Melody Trails by the Surrey Cowboy
"Peter has been entertaining in Hospitals, Senior Citizens Homes, Rest Homes, and Recreation Centers for a number of years"
Well, I guess his dream was to play his songs in a place where he was going to die. He probably induced some of his audience with rigor mortis while playing his boring music consisting of only harmonica, guitar, and himself singing about God and Canada.
"Peter's future ambition is to make many more albums of this type"
The world does not need more albums of this type. I have been reviewing shit like this for 12 years now. I'm begging everyone to please stop.
If you own this album, be careful when writing to his fan club. He had to blot out the old box number and hand-write the new one which likely belongs to the personal care home where Peter sings and poops himself.
Martin Janovsky - Strings & Hammers
When I first saw this album, I thought "Petrof" was a dumb name for an artist. The I realized it was a brand of piano. I suppose it's a fairly respected piano brand since it's featured so fucking prominently on the cover. Then you get Martin's name in the non-standout font at the bottom. At least he scribbled his name on the inside, making this copy an instant ebay cash-grab.
Just as Martin's name doesn't stand out on the cover, none of the songs on this CD stand out either. Music Box Dancer is very lackluster. The version of The Entertainer is decent, but the piano sounds very electronic.
Anyway, he does a cover of Hooked on Classics which was originally a bunch of orchestral classical music set to a disco beat, released in the early 1980s. It sold very well. Martin does a cover of it here, but the disco beat has been dumbed down to subtle background farting. It's pretty lousy. If you haven't heard the original, go check it out and compare it to this piece of crap.
Levi Strynadka -Fiddling Up a Storm
I'm not going to bother linking to all the posts I did on Arnie Strynadka's albums because there's tons of them. For a change of pace, here's an album by his son! The sound quality is better than his dad's albums, but the band backing him is fake as hell. Honestly, I'm not even sure the fiddle is real.
Apparently, there's at least four more albums by this guy.
Listen to Orange Blossom Special
Redline Demo
It's certainly been an entry for sealed albums!
Remember how bad country music was back in 1990? I know it's worse now, but the artists from 30 years ago really paved the way with their terrible lyrics, and Redline wanted to be right up there with them. The songs are really, really bad.
The guy on the cover looks like he's holding a gun to the mixing board. He should have pulled the trigger before recording this hunk of shit.
I won't lie.... It's been a challenge trying to manage my time between getting all these entries up and doing work on my new workspace. My stereo isn't hooked up for convenient audio transfers, so I've been doing a bunch of it in my currently cramped living room where other people watch TV and do homework. Fortunately, it seems to be getting closer to completed, so hopefully I'm in there come 2021 unless COVID kills me first.
Next stop: Neepawa!