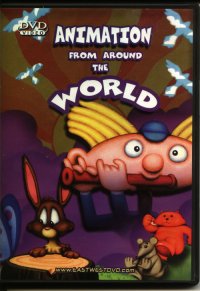 I picked up this DVD at Dollarama. It was nestled between all the shitty narrated children's book DVDs, and the 3-Crappy-70s-Movies-In-1 DVDs. Just from the title, I figured I'd find something at least remotely bizarre on it.
The DVD turned out to be a dollar well spent. It's FULL of bizarre shit!
According to the internet, this is actually a repackaged video originally called "The International Tournee of Animation: Volume 4." People have apparently paid $30-$40 for this thing on VHS, and here I picked it up in a dollar store.
I'm putting up two segments from this video. The first is a segment of moving blobs, narrated by a man and a woman having sex. Don't believe me? Watch it:
Before I get into the second video, I want you to take a good look at the back of the DVD case. Read it: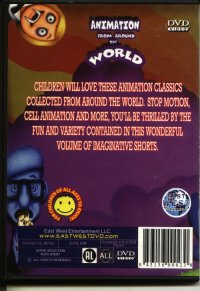 Unfortunately, I cannot put the second video on Youtube. If I do, it will get removed because it violates Youtube's terms due to the pumping sex action and big titties!
This isn't the only offensive piece on the DVD, there are a few others. This is just the
most
offensive one. Not only is it a bit creepy, it contains war, nutity, and sex - everything you'd want your children to see in a DVD from the dollar store!
It's about a 30M download.
CLICK HERE TO GET IT!
And if you'd like to own a copy of this DVD but can't find it in your local dollar store, you can get it from Amazon.