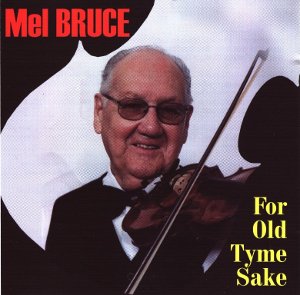 Just found out that my long-time neighbor and barber Mel Bruce has passed away. He lived 3 or 4 houses down from me when I was a kid, gave me many haircuts after his retirement, and had a fantastic sense of humor. I picked up his album "For Old Tyme Sake" a couple months ago in a Thrift store. After I told my dad I had found it, he called Mel up and asked him how much money he made from it. Mel told him "I think I actually LOST money on that!"
The guy always amazed me. He was in his early 70s back in the 1990s, and always had a lot of energy. I believe he had a quadruple by-pass operation, but that never slowed him down. He and my dad actually started a bit of a side-business building utility trailers after Mel's was stolen.
It's unfortunate that I never got to see him in more recent years. After his first wife died, he moved, re-married, and I lost touch with him.
As a tribute, I'm providing one of my favorite tracks from his CD as well as a full download link. The album is full of polkas and waltzes, and my readers know that's right up my alley. It's very well-recorded and for a bunch of old dudes, they were a pretty tight band.
Rest in peace, Mel.
Listen to Donny's Polka
Download the full album
Mel's Obituary