I have some good news and some bad news. The good news is I've been able to acquire every album by Bucky Dee James & The Nashville Explosion. The bad news is they still suck. You can read about the first album I bought by them
here
.
Bucky Dee James got signed by the Springboard label after he did a drunken Elvis impression at a friend's Christmas party. They based his talent on his twitchy snarly lip rather than his ability to sound remotely like Elvis.
Springboard seems to have the knack for finding garbage talent to record in their studio. If you're wondering what else Springboard has to offer, someone was kind enough to post an almost complete discography
here
. I must say that it's interesting to look through. It seems that Springboard specialized in making bootlegs until catalog number SPB-4075 when they started recording their own garbage. In other words, we have lawsuits to thank for giving Bucky Dee James his big break. Without lawsuits, this world would be void of talentless hacks like Bucky.
The first album up for criticism is "The Hits of Elvis Presley Vol. 2"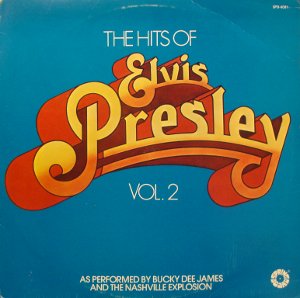 I've picked up a LOT of cheap imitation albums, and most of them have "Vol. 1" placed after the title. However, it's extremely rare that I'm able to find a Vol.2. Bucky lived up to his promise and brought us more atrocious Elvis covers. Here's a list of the grave spinners we get this round:
It's Now Or Never
Are You Lonesome Tonight
Surrender
Can't Help Falling In Love
Good Luck Charm
Return To Sender
Suspicious Minds
The Wonder Of You
Burning Love
I'd forgotten how bad this shit is, but the first track "It's Now Or Never" put it all back in perspective.
Listen to it here
.
Makes me wanna barf.
As a side note, I have enough cheap imitation Elvis albums to make my very own compilation, and fully intend to put one together for downloading. Another band I've acquired bad tribute albums for is Led Zeppelin, so you've got that to look forward to as well.
Now, let's move onto Bucky's third and final album... The Hits of Glen Campbell!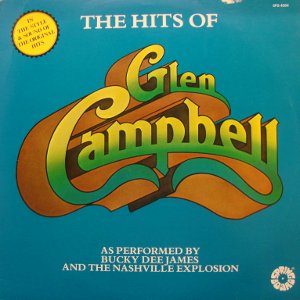 Before I get into this album, let's compare this album cover to the last one. Hmmm. Nearly the same background color. The Glen Campbell one is a bit greener. Same crappy font for the artist they're ruining. The imagination gears sure turn in the art department, don't they! The Glen Campbell album has that fake gold sticker thingy in the upper left hand corner, showing that the complaints have been rolling in from people accidentally mistaking Bucky's Elvis album for a real Elvis album. So now, we've got this gold (or yellow) medallion in the corner saying "This is fucking garbage! Buy it anyway!"
Here's what we get in this fine collection of Glen Campbell hits:
Southern Nights
Rhinestone Cowboy
By The Time I Get To Phoenix
Sunflower
Galveston
Gentle On My Mind
Wichita Lineman
Country Boy (You Got Your Feet In LA)
True Grit
So now, let's hear this non-famous Elvis impersonator sing some Glen Campbell...
Listen to Rhinestone Cowboy
Ummm.... What the fuck is this??? Is this the same guy? This sounds NOTHING like his Elvis albums! It sounds like Bucky actually does have some talent hidden under his snarly lip and sideburns. He actually does a decent job singing these songs, The Nashville Explosion play their instruments somewhat well, and the guy who mixed the album did a shitty job by burying some of Bucky's lower vocals under the band. This is a quality cheap imitation album we have here. Unfortunately, by the time Springboard gets to Bucky's third album, they decided they didn't want his shit anymore and focused their next few albums on lousy orchestra covers of movie hits.
Poor Bucky. After his brief fling with stardom, he got kicked off the label and blew all his earnings on drugs (one bag of weed).
It seems that after this album, Bucky and the Nashville Explosion had some difficult times as a band. After scouring the internet, I found
this collection
called "24 Country Hits" released in 1978 on the Intercord label. It's a European collection which features The Nashville Explosion with and without Bucky along with some other big name Country artists. This came out a year after the Glen Campbell album.
Obviously, these guys were struggling to find work. After being unsuccessful, they turned to panhandling, hoping to raise enough money to buy another bag of weed. They are now residing in the "where are they now" and "who gives a fuck" categories.