The stupidity is endless when I'm out garage sale shopping. Look at what I bought during the Summer: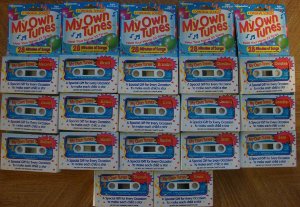 17 cassettes that have essentially the same song on each of them with only the name changed on each. I ended up with two copies of "Sean". There's more in the series, and unfortunately the one with my name isn't in this batch. These were made by a company called "Kidselebration" and I remember seeing them sold in novelty shops back in the 90s.
I love the packaging. It boasts that there's 28 minutes of songs, but half of that is repeated because both sides are the same. That's like selling a CD boasting "68 Minutes of Iron Butterfly" with In-A-Gadda-Da-Vida repeated four times. Not only that, you get to hear your name 23 times. Now, is that 23 times during the entire 28 minutes, or 23 times non-repeated? It must be non-repeated because side one would then consist of saying your name 11 1/2 times. It might be difficult to do that with the name "Brett".
I suppose I could come out with a crappy song tape that says your name 26 times, then I could brag, "Hear your name three more times than the other leading brand!" I'd probably have to use different names like "Dweezil" and "Terri-Lynn" to avoid a lawsuit from Kidselebration.
For you idiots who happened to name your daughter Trevor, you're in luck because as the back of the box says, "the songs do not refer specifically to boys or girls, so names can work for either." On top of that, the "names are not spelled in the songs" so if you're like me and your parents fucked up the spelling of your name (I'm looking at you Reychalle) then you won't be crying because the stupid tape only spells your name wrong on the label.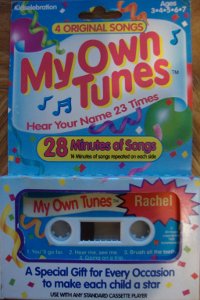 The price tag on the back of these is marked at $8.99 each. I didn't even pay that much for the whole shot! Personally, I think $8.99 for 28 minutes of songs which is actually 14 minutes of songs is a rip-off.
The songs are awful, but I think that's expected when you look at the age range on the package and consider the name and gender neutrality that comes with it. Anyway, here's the first song on the Rachel tape. I personally don't have the tolerance (nor the time) to post the other crappy songs.
Listen to You'll Go Far (With Lots of Heart) ... The Rachel version
Update (Jan 8, 2012):
Due to the large demand, I've turned all the cassettes into MP3s. They are available in the
download section
. If I find more of them out in the wild, I'll make them available. Feel free to post the direct links on Facebook! :)