Thanks to a loyal reader, I learned that I had neglected to finish posting the rest of 2018's Junq Tour. I called him a liar and told him that I had indeed completed the entries. I wasn't wrong, but neither was he. Indeed, I had digitized and written all the entries, but I neglected to finish posting them. I owe this faithful reader a Kevin Harcourt album for his dedication and his insistence on putting my stupid ass on the grill. My shit now comes out medium-rare.
Without further hesitation, let's complete the 2018 Junq Tour...
Every time I go to the Neepawa thrift store, I walk out with a big mitt of crappy-ass music. This time was no different. However, there's a few gems this time around that I didn't really expect to find...
Elan Emerson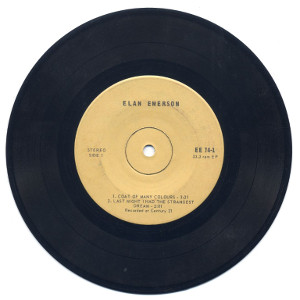 We've got Elan Emerson's big debut EP! When I bought this thing, I had no clue this person was somewhere around six years old.
This 4-track record has Elan singing her tiny little ass off. The songs she picked are 30000 years old. I recognized Coat of Many Colours, and The Fox
went out on a date one night, and he fucked and he sucked and he fucked and he sucked, and it must be a mighty fine town-o!
The organ player on this one is my idol. I want a whole album called "Elan Emerson's Organ Player Plays the Hits!" With my luck finding stupid crap, I'll probably come across it.
Listen to Coat of Many Colours
Listen to Last Night I Had The Strangest Dream
Listen to The Fox
Listen to The Gypsy Rover
Join the Gilmar Record Club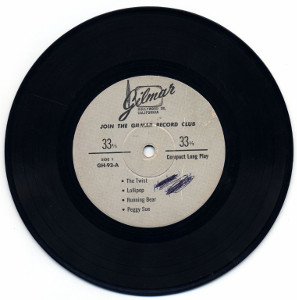 You know you're in for a good time when they jam 8 entire songs onto a 7" record. In order to achieve this amount of compression, they have to record the songs really quietly, turn the bass down, and let all the crackles and pops to the talking!
The performances are pure garbage, and scream "I'm a fake-breasted prostitute who's going to rip you off and not even give you an ounce of pleasure". All the songs are from the late 1950s which means this is probably the oldest cheap imitation record I own.
The poor groove walls are so tiny and fragile that the fucking thing started skipping during Running Bear and Peggy Sue, so you're going to get extended versions that you can dance to for the entire night.
Listen to the shittiest version of Peggy Sue you've ever heard in your life
Download the entire piece of crap
Laurisa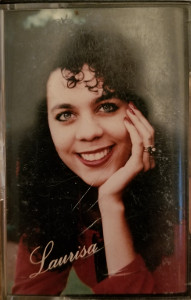 Remember how great the 1980s were? Remember when you got a perm and recorded your big debut single? Well, Laurisa does! Too bad the debut single was so over-80s-ified that it was a whiny synthy piece of garbage. Oh yeah, and it's a Christian song too, so failure was imminent.
Listen to Love You Forever
Listen to In Your Presence
Learning As We Play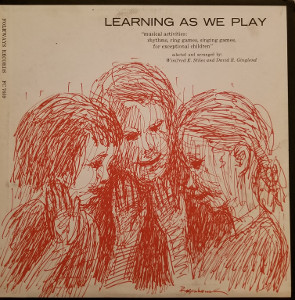 First of all, let's look at the cover... someone took a red pen and scribbled all over the album cover and accidentally made an image of three hairy children. Also, this album is for EXCEPTIONAL children which means no mentally challenged, autistic, nor comatose children are allowed to participate in the activities on this record.
Second, this album must not have seen much, if any use because the damn thing is in mint shape.
Third, this was obviously recorded in the 1950s. Back then, they used shoestrings made out of leather to record albums on instead of ferric oxide coated paper. The recording quality isn't very good.
Fourth, most of these children are probably dead by now.
Fifth, the song "See The Indians" goes to prove that Indians were at one time an endanger species, because nobody in their right mind would write such a song if Indians were commonplace.
Listen to See The Indians
Download the whole thing
Metro - Metro on Broadway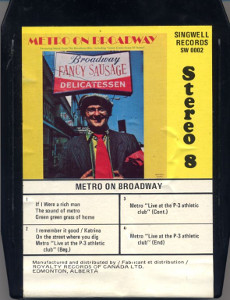 I covered one of Metro's previous albums (
12 Days from Christmas
) on here at least once. Here is one of his follow up albums (I have at least one other). It's your typical Canadian-Ukrainian comedy album, but with more kazoo. The album is fun, witty, and quirky. The second half of the album is a live show, and he's just as good at stand-up as he is with his comedy songs.
The sound quality of this 8-track is surprisingly fantastic! Better than that piece of shit Gilmar record club thingy.
Listen to On The Street Where You Dig
Download the whole album
The Neepawa Variatones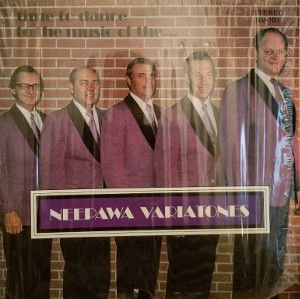 Now I know what you guys have been asking... "Where the fuck is my cover of Blue Eyes Crying In The Rain?" It's on this album, so you can just shut the hell up and be happy.
Unfortunately, Blue Eyes Crying In The Rain is NOT the highlight of this album. There are three songs that have vocals, and the guy is terrible. The band is one you would hire to play at a live funeral. The music is miserable and makes me want to cry until the keys don't work anymore on this crappy HP laptop.
Listen to Birth of the Blues
Download the whole record
Philip Nevile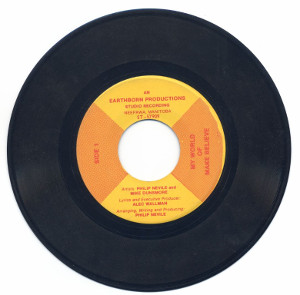 Here is Philip Nevile's big debut single! The vinyl it's pressed on is filing a lawsuit against Philip for forcing such shitty songs onto it. First of all, the song "My World of Make Believe" sounds like a broken music box. Philip is singing in an echo chamber, and his twin brother is singing backup vocals.
The B-side (Bring Her Home) isn't as terrible, but it's still not great. There's too much vocal, and too many assholes trying to be fancy on the guitar at once. Listening to this is like looking at a pleasantly-colored pile of dog puke.
Listen to My World of Make Believe
Listen to Bring Her Home
Pop Jewels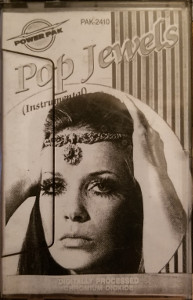 The album should have been called "Poop Nuggets". Madacy brings us some classic instrumental tracks that aren't the originals. I'm pretty sure I've heard some of these recordings before, and I'm pretty sure that poopy version of popcorn is featured elsewhere on this blog.
I don't know why the album cover is photocopied. The cassette came straight from the factory. Perhaps Madacy finally paid their musicians (or the wankers they bought these recordings from) and couldn't afford card stock for the cassette inlay. Anyway, if you think you'll enjoy an unenthusiastic version of Green Onions or some Zamfir-wannabe play El Condor Pasa on the pan flute, this will be a great album to share with all your buddies. If you don't like any of that shit, then this is a great cassette to bat dog turds with.
Listen to El Condor Pasa
Download the whole poopy collection
Shayne Lewis - Soul Survivor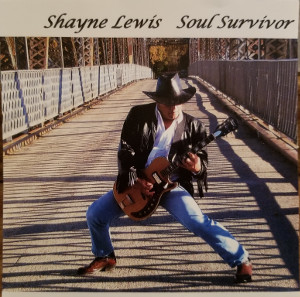 This is probably one of the greatest finds from the entire Junq tour. Look at this guy. He seems to have mastered the art of taking a shit while playing his guitar. There is absolutely no other reason to squat like that with a guitar strapped to you.
This photo was taken right by the Bridge Drive In ice cream shop in Winnipeg. I would have been happier if he was strumming that guitar with a waffle cone.
The songs??? Bwahahahahahaha!!!!
Okay, I'll try to describe this... Ever have a sore throat from trying to take a shit on a bridge? Well, that's exactly what poor Shayne had while he recorded his vocal tracks. The songs themselves are lousy. The worst song on here by far is Pina. Speaking of pina, I have to feel sorry for Shane's pina being squashed against the back of that guitar. I hope there's a recovery center for guitars who have been raped on bridges against their will.
Listen to Pina
Download this piece of garbage
The Surfsiders Sing The Beach Boys Songbook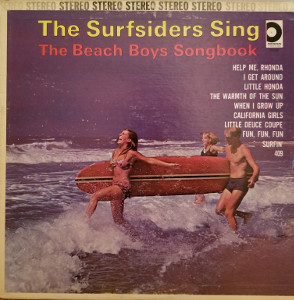 Ever go surfing only to end up doing a faceplant on the concrete? If you haven't, I'm sure The Surfsiders can tell you plenty of stories about it because that's essentially what you have here. These fucking losers never waxed a surf board in their lives, and never got wet from it.
The harmonies on this album just sound like a bunch of drunken Californians ready to fall onto the floor and pass out for the night. These are so far from the originals that they could almost be considered originals themselves.
If you want to ruin your summer, you'll love this album.
Listen to Little Deuce Coup
Download the whole thing
Audiodisc of Some Guy Playing the Bagpipes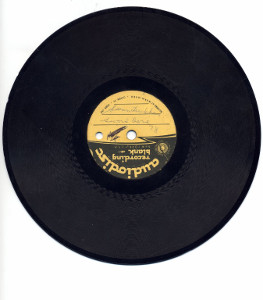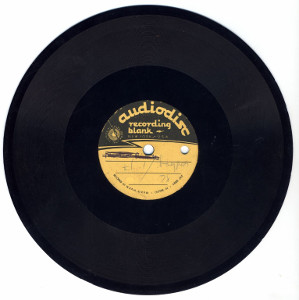 Now, I love bagpipes as much as the next guy, but I can't understand why anybody would waste a blank Audiodisc on this shit. I mean, there's probably a difference between a wicked bagpipe player and a shit bagpipe player, but it all sounds like three ducks caught half way in a meat grinder.
The death of the music at the end of side one is completely worth listening to though. Take the three ducks stuck halfway in a meat grinder, and throw the whole meat grinder into a car crusher, and you have the ending.
Listen to Side 1 and 2
Voice-O-Graphs (the second installment)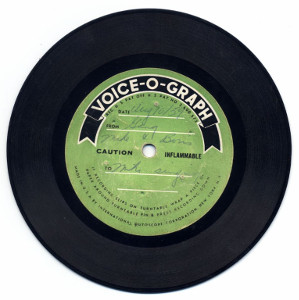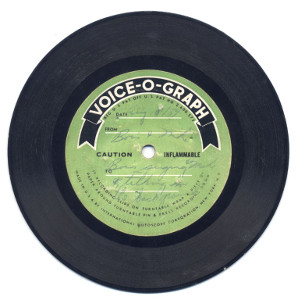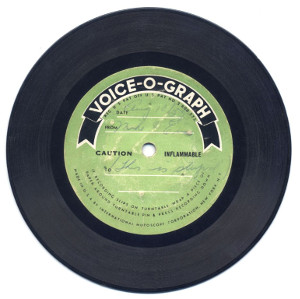 Last year, I found one Voice-O-Graph record at the Neepawa thrift store
. This year, I found three more which obviously came from the same batch as the previous one. We have two records here featuring two guys named Boris & Mike, and each has a record of themselves singing. The third record is simply titled "This Is Stupid". In other words, it was a waste of a record, but I'm presenting it here because these people are most likely dead now.
Listen to Boris Singing
Listen to Mike Singing
Listen to This Is Stupid
So there's my lengthy Neepawa entry. Hang on tight, because we're headed for a visit to Dauphin!