I guess it was inevitable that I would eventually write about the famous doll series from Mattel. Here, I have two completely unrelated items, brought together solely by the fate created by my blog.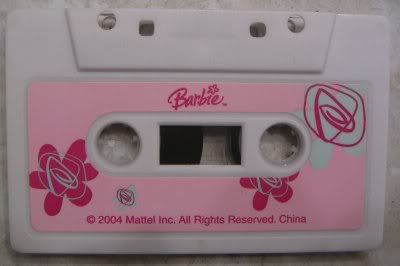 The first item is this Barbie cassette which came with the Barbie Cassette Recorder. Mattel has merchandised as much shit as it can with the Barbie name.
I found the cassette inside the tape recorder at a thrift store. Of course I removed the cassette and purchased it for 25 cents, leaving the fugly pink tape recorder behind. I love how the copyright is on the cassette label, so anything you record is automatically owned by Mattel.
Click Here
to listen to a clip of what's on this tape.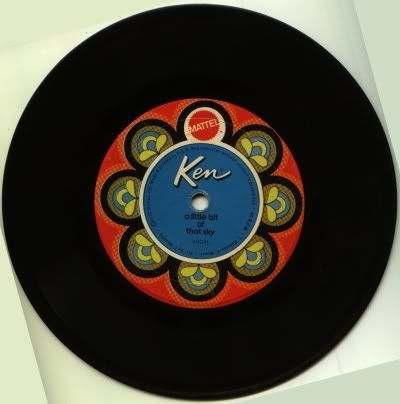 Next is this 45 i bought for ten cents. It's Ken singing his hit song, "A Little Bit of That Sky" (karaoke version on the flipside.) I've never seen Barbie music on any other format besides cassette tapes, so it was a real treat to find this 45 which was released in 1970. It took me a bit of searching on the internet, but I did find the doll that this 45 came with.
Click Here to see it
. Gotta love those tassles and the psychedelic shirt!
And of course, we're all dying to hear what kind of music Ken was making in 1970. Let's see, who was popular in 1970?
- Led Zeppelin
- The Doors
- Jimi Hendrix
- Three Dog Night
- Creedence Clearwater Revival
Those are great bands! Let's hope Ken lives up to his competition.
CLICK HERE TO LISTEN!
Wow, that guitar solo in the middle will give Jimmy Page a run for his money!
Okay, I forgot to mention a few others who were popular in 1970:
- James Taylor
- Bobby Sherman
- B.J. Thomas
- The Carpenters
- Bread
- Donny Osmond
I guess we can add Ken to the 'not so cool' list.